Teka ovens offer a premium cooking experience at an affordable price, making them an excellent choice for those who want top-notch quality and performance without breaking the bank. With features and technology that rival more expensive brands, Teka ovens provide a smart option for customers wishing for the best of both worlds.
Our website offers a wide variety of ovens, each with unique features and modern designs. Whether you're a professional chef or a home cook, the information on this page can help you make an informed decision and find the oven that best suits your needs and preferences.
When it comes to choosing an oven, there are many options available. Today's ovens come with the latest technology, safety features, and modern designs. To help you make an informed decision, we've compiled a list of the different types of ovens available on our website, along with their key features. This way, you can find the oven that best suits your needs and preferences.
Teka multifunctional ovens are the perfect choice for cooking enthusiasts. With a range of advanced features such as defrosting, fast heating, and grill with turbine, you can experiment with all kinds of recipes and take your culinary skills to the next level.
​
Teka's steam oven combis are multifunctional, with the added benefit of preserving food nutrients while cooking at temperatures between 30-100º. You can cook healthier and more delicious meals for you and your family.
​
Teka's steam oven combis are multifunctional, with the added benefit of preserving food nutrients while cooking at temperatures between 30-100º. You can cook healthier and more delicious meals for you and your family.
​
When choosing the size of our oven, you should take into account the available space in your kitchen.
60cm
The standard Teka oven size is 60 cm tall, 60 cm wide and 71 litre gross capacity. Perfect for any kitchen.
​
45cm
Teka compact ovens are 45 cm high x 60 cm wide and designed for those with less space in their kitchen and who require smaller appliances.
90cm
Teka large-capacity ovens are the perfect choice for large families. These 90cm wide ovens with 91 litres capacity have ample interior space that allows you to cook multiple dishes at once.
​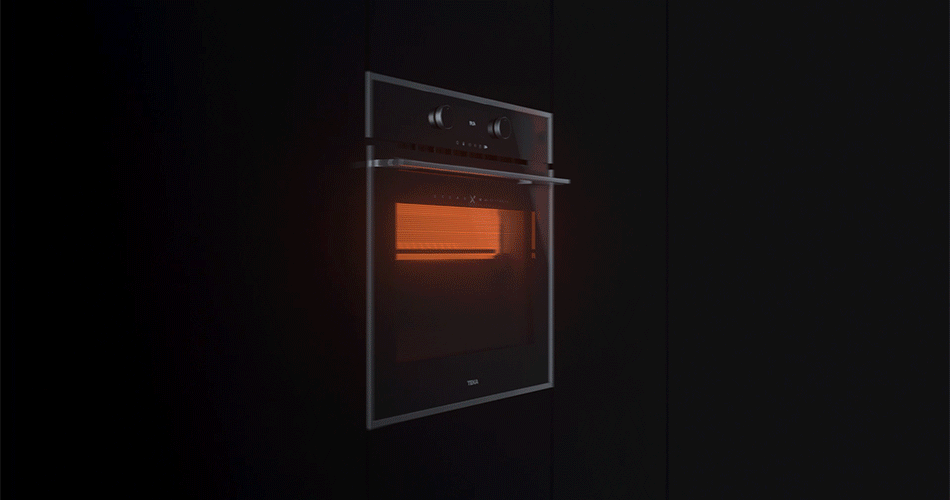 HydroClean Pro® Self-cleaning System
Teka oven's Hydroclean self-cleaning feature allows you to clean your oven with water, without chemicals or other cleaning agents. Water turns to steam at high temperatures and softens the grease, making light work of cleaning. Pour water into the bottom of the oven, select the Hydroclean function, and let the oven do the work for you. With this feature, you can save time and effort while achieving a spotless oven.
DualClean Self-cleaning Systems
Teka DualClean ovens are equipped with two state-of-the-art self-cleaning functions, making the cleaning process a breeze. The innovative HydroClean function uses steam to provide quick and convenient cleaning. On the other hand, Teka's pyrolytic self-cleaning feature uses high heat to turn food residue and spills into ash, which can be easily wiped away. This not only saves you time and effort but also ensures that your oven is thoroughly cleaned and disinfected. With Teka DualClean ovens, you can enjoy the benefits of both technologies for a perfectly clean oven every time.
Teka HydroClean Oven Models
​
​
​
​
​
​
​
​
Teka DualClean Oven Models
​
​
Teka ovens come with various features designed to make cooking as easy and safe as possible. The SoftClose mechanism allows the oven door to close smoothly and silently, pausing just before it closes completely. This ensures that no sudden movements could cause damage or spills.
The CoolTouch System® is another safety feature that ensures the outside of the oven remains cool to the touch, even when the oven is on. This is achieved by using up to four glass panels, which help keep the temperature inside the oven while minimising heat transfer to the outside. This means you won't have to worry about burns, even if you accidentally touch the oven door while cooking.
Teka ovens also come with a Safety lock mechanism that automatically closes the door when the oven temperature reaches 360ºC, typically during pyrolysis self-cleaning function. This ensures that the oven is safe and reduces the risk of accidental burns or fires.
Finally, Teka ovens with a display come equipped with a Control display lock to avoid unintentional changes to the oven temperature or function. This locking system prevents accidental changes, giving you greater peace of mind and control over your cooking. With these features and more, Teka ovens are an innovative and safe choice for any home cook.
Powerful SteakGrill (700°C) Function
Teka's SteakMaster oven is a unique and award-winning technology that's perfect for steak lovers who want to cook the perfect steak at home. Co-developed with Michelin-starred chefs, the SteakMaster oven uses high temperatures of up to 700ºC to seal the cut and maintain its juiciness and flavour while providing a crispy outer layer. If you love a good steak, the SteakMaster oven is definitely worth considering.
​
Introducing the Teka Pizza oven - the ultimate tool for pizza lovers who want epic, restaurant-quality results from the comfort of their kitchen. The oven's automatic function reaches a scorching 340ºC, ensuring that each pizza has a perfectly crisp crust. The exclusive Pizza Stone absorbs moisture, resulting in a deliciously crunchy exterior and juicy toppings. And with the ability to cook up to 10 pizzas in just 30 minutes, the Teka Pizza oven will make you a pizza-making legend in no time.
​
Discover Teka's AirFry oven - the perfect solution for anyone who loves indulging in crispy, crunchy foods but wants to avoid the guilt of using too much oil. With the AirFry function, you can achieve crunchy, oil-free results at the touch of a button. Whether you're cooking up frozen potato fries, chicken wings, nuggets, or fresh vegetables, you'll be able to enjoy juicy, crispy results that are sure to satisfy your cravings. So go ahead and indulge in your favourite guilty pleasures without the guilt.
​
Multifunctional SurroundTemp ovens guarantee evenly distributed heat, even cooking at different levels—perfect results with a homogeneous finish.
Personal Cooking Assistance
Teka ovens with an automatic cooking assistant for multiple personal cooking assistance recipes, each programmed with temperature and time guides to make delicious dishes like a pro. It will even turn off automatically when finished.
Full Extension Telescopic Guide
Smoother running, full precision, and total extraction with the new Full Extension Telescopic Guides. 100% of the tray is extracted, so you never have to reach into the oven.
Additionally, cooking several meals at once within your oven is made possible with Teka's 5-cooking level chrome supports. Save time and energy without compromising the quality of your dishes.
Are you looking for a healthier way to cook that preserves your food's original flavour and texture? Teka's SteamBox kit can turn your oven into a steamer, allowing you to cook without oil and achieve delicious, flavourful results. Select the solera function in your oven and let the SteamBox do the rest. You can cook multiple dishes at once with double food trays, and the extra deep tray provides ample space for water.